COST REPORTING SOFTWARE FOR CONSTRUCTION
Have a 360° view of all live project commercials
View live project performance, eliminating manual cost reports

Track all key project metrics across your whole business

Use real-time insights to make critical project & business decisions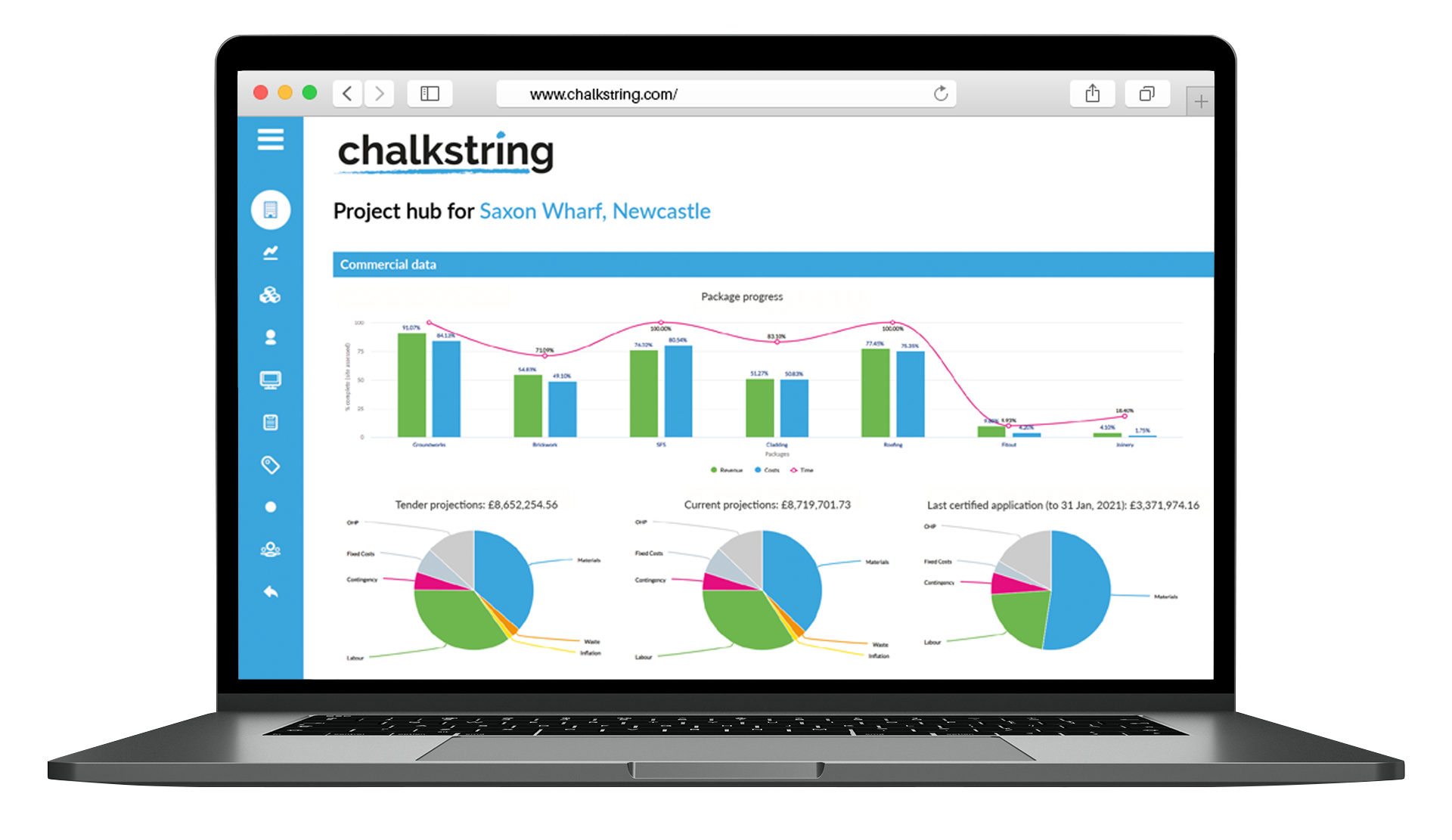 Does this sound familiar?
Creating monthly cost reports is time-consuming. Data is held in multiple spreadsheets and some reports rely on accounts data that is in arrears.
We're not sure if we're making or losing money on our jobs, until they're completed. It's then too late to take corrective action.
We can't easily see how all our projects are performing as a whole. This makes it hard to plan cashflow and understand our liabilities.
Chalkstring has all the features to run projects commercially, from start to finish. All cost information is stored and reported on at either project or business level.
View the health of your projects in real-time. Using live dashboards and tables, review cost versus value, accruals, live projections and costs-to-complete, across all work packages.
Review how all your projects are performing collectively and in real-time. View high level project commercials, with the option to drill into detail.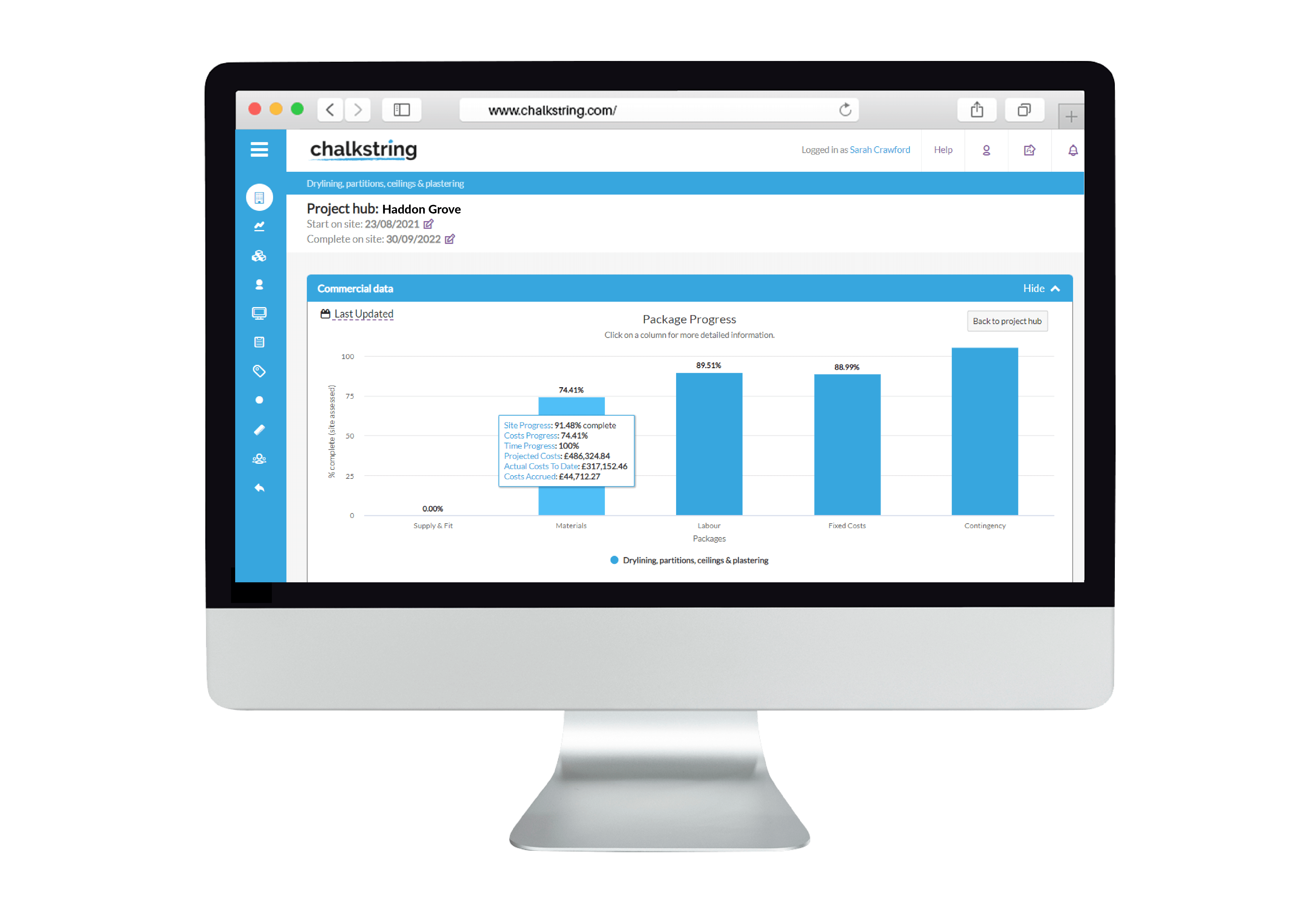 Easily interrogate data and identify early warnings so you can take action

Eliminate re-keying and copying data from multiple systems & spreadsheets

Remove the risk of error from spreadsheet formulae

Easily spot anomalies, by using automated & standardised report formats

Plan cashflow, safe in the knowledge that project data is both live and accurate
Use data to make strategic business decisions
Review the accuracy of your tender projections against final account

Analyse trends across your business and make informed decisions

Easily identify your least and most profitable clients

See which suppliers you spend the least or most with

Generate manufacturer and supplier rebate reports

Interrogate material & labour costs
With Chalkstring you will:
Use one system to manage all financial aspects of your projects, business-wide. Access information from the office, onsite or on the go.
Use a consistent reporting format for all projects across your business. Easily interrogate data and identify issues.
Use real-time insights, based on data that you trust, to make informed business and project decisions.
See Chalkstring for yourself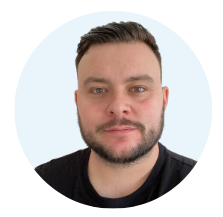 "Project information is available in one place and in real-time. We have more insight into how our projects are performing."

★★★★★

Rory Smith
Managing Director | Smiths Drylining Ltd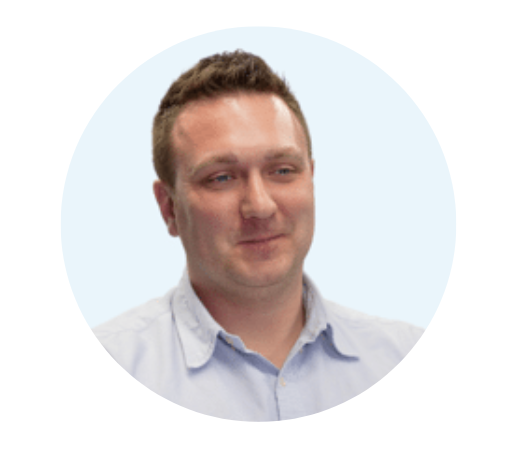 "Chalkstring has given us true visibility of project performance, in real-time, and is ultimately giving us more control."

★★★★★

Craig Scott
Commercial Director | SCS Building Solutions Ltd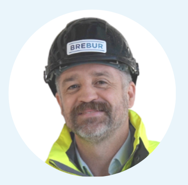 "Chalkstring has prevented us from losing money on jobs. We have more control, better project governance and, ultimately, a better business."

★★★★★

Jamie Brenton
Managing Director | Brebur Ltd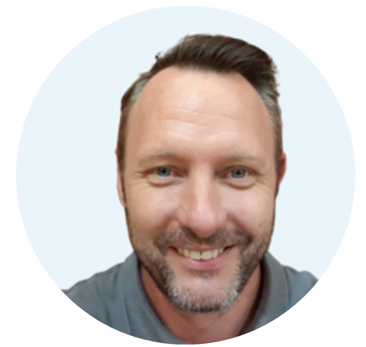 "Having all our project financials live and in one place gives me the confidence and control I need to run the business."

★★★★★

Paul Bagley
Managing Director | PWB Drylining & Interiors Ltd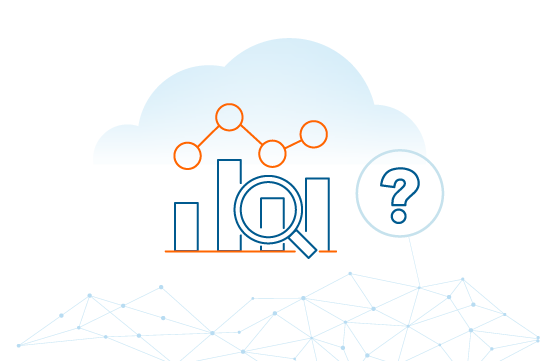 Take the guesswork out of running your business
How Chalkstring enables specialist subcontractors to replace gut-feel decisions with informed data-driven decisions.
Cost reports is just one of Chalkstring's many features
Chalkstring is an all-in-one cloud-based platform for estimating, procurement, cost reporting and more. Developed for specialist subcontractors, it streamlines how your entire team manages project financials across every stage of a construction contract, from tender to final account.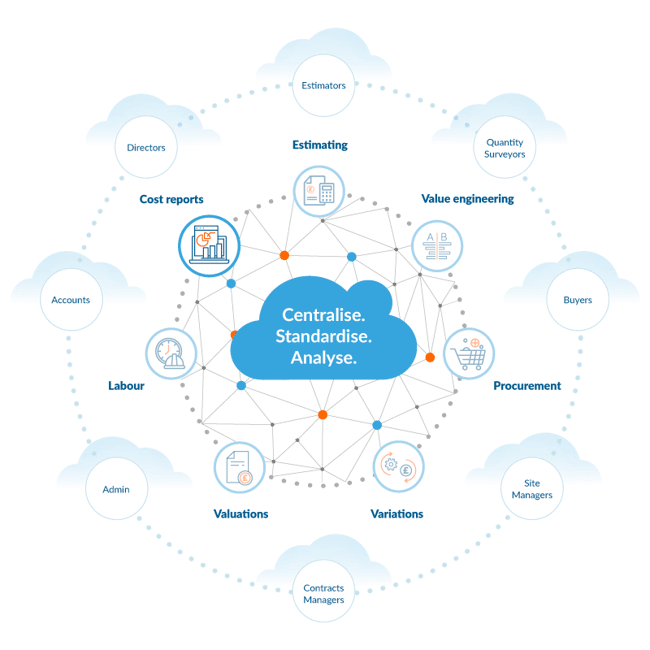 See Chalkstring for yourself